Ecology Studies - Conservation Biology and Biodiversity
Learn more about biodiversity and the importance of its preservation with this free online ecology course.
Publisher:

OpenStax College
This free online Ecology Studies course focuses on Conservation Biology and Biodiversity. The core threats to biodiversity today are human population growth and unsustainable resource use, with the most significant causes of extinctions being habitat loss and overharvesting. With this course, you will learn how the loss of biodiversity threatens the ecosystem and what kind of actions can be undertaken to preserve it.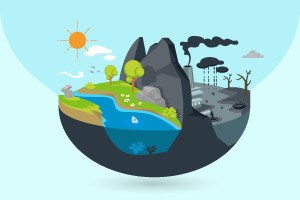 Duration

1.5-3 Hours

Accreditation

CPD
Description
This course will begin by giving you an overview of the main types of biodiversity. Ecologists measure biodiversity by taking into account both the number of species and how common they are. This free course will cover the topics on Extinction, Genetic diversity, Ecosystem diversity, and Biodiversity Hotspots. You will also study Five Mass Extinctions and Present-Time Extinctions, and be guided through the importance of biodiversity for human life.

At present, protecting biodiversity is a major goal being addressed by means of technology and data processing. This includes cataloging the planet's biodiversity using methods such as DNA barcoding and information processing. Government policies are also helping to avoid the most dangerous impacts of the indirect and direct drivers of biodiversity loss such as population increase and increased consumption. In addition to all of these topics, the course will also discuss Preserve Design and habitat restoration and their roles in the biodiversity preservation process.

The preservation of biodiversity is essential for maintaining the existence of species in nature as well as to save valuable resources for the future generation. This free Ecology Studies - Conservation Biology and Biodiversity online course will help you better understand how biodiversity is currently under threat, and what can be done to help preserve it across the world. This is meaningful information, so check out the course today and start learning about something really important.
Start Course Now